Champions of Medical Freedom Join Forces in Texas
Houston nurse Jennifer Bridges, fired in June of 2021 by Houston Methodist Hospital for choosing to avoid the dangerous Covid jab, has just joined forces with another champion for medical freedom, Dr. Mary Talley Bowden. Jennifer will now help Talley at her BreatheMD Clinic in Houston in treating and educating the freely unvaccinated, helping them stay medically free, informed and healthy. Dr. Bowden was also recently canceled by Houston Methodist for raising questions about the jab and for treating her patients effectively. It's really the medical twilight zone here in America these days but these freedom fighters are not going to be bullied one bit.
Major Hospital Cancels another Effective Doctor
Ruby Ray Media contributors Heather Evans and Robyn Gritz
On November 21, 2021, the canceled but courageous Jennifer Bridges held the Freedom Fall Fest music and educational event north of Houston to benefit a class action lawsuit she filed against Houston Methodist Hospital.
Bridges' lawsuit, currently in the U.S. Court of Appeals, Fifth Circuit in Texas, is the spearhead for what is now over 200 medical professionals who lost their jobs for refusing to comply with the coronavirus vaccine mandate at Houston Methodist which is one of the nation's first health systems to impose such a mandate. Jennifer Bridges may well be the first RN nurse in the country to take a stand for healthcare workers and the American people.
Guest speakers for the Fall Fest were drawn from different walks of life who have an interest in the treatment of those who contract COVID and for standing up against the forced vaccine mandates being imposed on health workers all over the country.

Dr. Mary Talley Bowden was a late addition to the speaker panel. She had come under fire in the last week by Houston Methodist for assisting the unvaccinated. Bowden, a private-practice ear, nose and throat doctor (ENT) who had provisional privileges to practice at Houston Methodist Hospital, was suspended Friday, November 12, 2021. The hospital claims that Bowden was "spreading misinformation" on social media about a COVID treatment drug being successfully used across the world, Ivermectin.

Dr. Bowden began treating COVID patients in 2020. She applied for hospital privileges at Houston Methodist Hospital, in anticipation of any of her COVID patients needing hospital services. She has tested 80,000 and treated over 2,000 COVID patients. Not one of those proactively treated for COVID by her needed hospital admission.
It appears that Houston Methodist suspended her hospital privileges, not because of poor patient care, but because of something she said on social media! She honestly reported to her followers that COVID-19 vaccine mandates were not necessary and that she is having success in treating patients with Ivermectin.
It was on Twitter that she received a bewildering message from the Houston Chronicle wanting to confirm the Hospital's suspension of her privileges there! Before the hospital ever contacted her in any way! Kind of reminds us of the way CNN shows up at an FBI bust in the wee hours of the morning before the one being busted knows there's even a problem! Bowden was being canceled online and slandered in Pharma-funded corporate media before she even knew why.
She resigned from the hospital November 15, 2021, recently announcing that she was only accepting unvaccinated new patients since so many of them have nowhere else to go, a policy that would have forced her to resign anyway since Methodist adopted a policy of only allowing vaccinated people to enter the hospital.
HOUSTON NURSE FIRED FOR REFUSING COVID VACCINE
NewsNation Now on YouTube
Published Aug 18, 2021
5:06 viewing length
Jennifer Bridges with her attorney on Hannity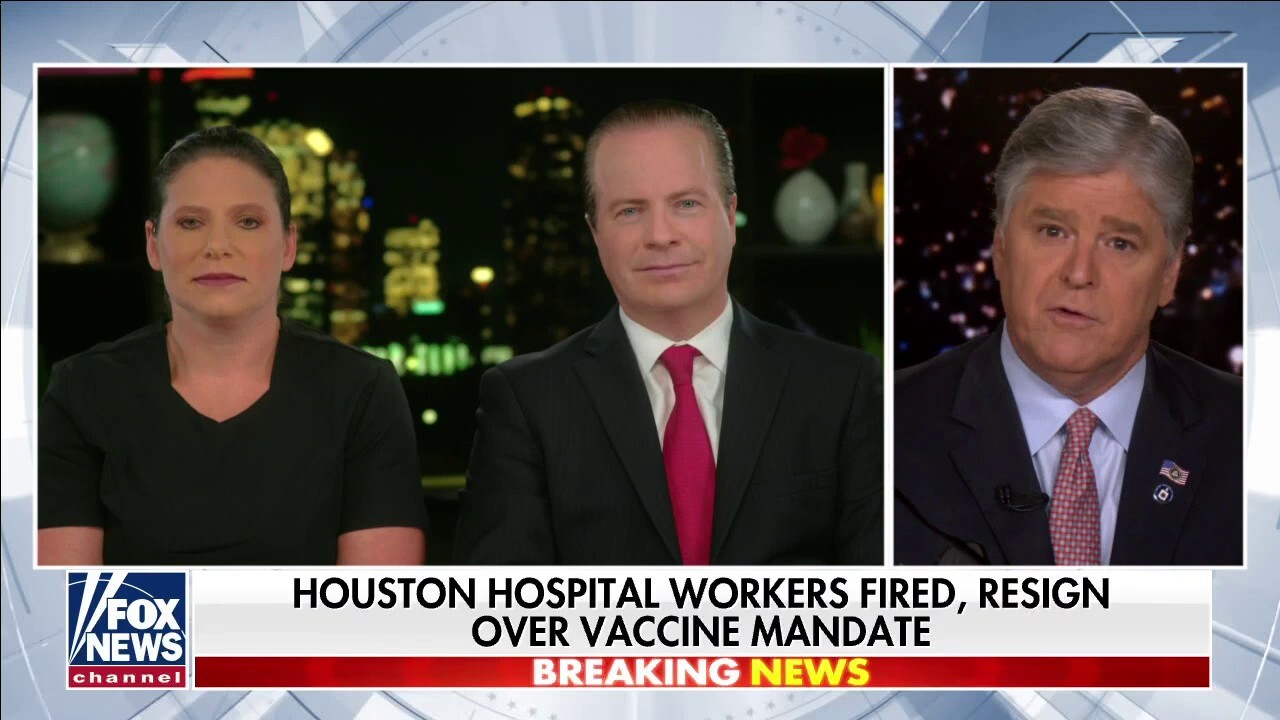 More than 150 employees at a Houston hospital system who refused to get the COVID-19 vaccine have been fired or resigned after a judge dismissed an employee lawsuit over the vaccine requirement.
Jennifer Bridges, a registered nurse who is the lead plaintiff in the lawsuit against Houston Methodist Hospital, said her director called her Tuesday to ask if she'd gotten the vaccine yet or made any effort to do so. She said that when she replied "absolutely not," she was told that she was terminated.
Bridges told "Hannity" on Wednesday that she chose to forego the vaccine because she possessed natural immunity after contracting the coronavirus last summer.
Jennifer Bridges is originally from Cleveland, Ohio. She moved to Houston twenty years ago and fell in love with the area. She worked at Houston Methodist for eight years until she was fired June 22, 2021 for refusing to take the Covid shot. She decided to take a stand for all the employees that were not able to speak up for themselves. She initiated a lawsuit with about 200 others. She is the founder of Guardians of Medical Choice.


Jennifer gets contacted daily by health care workers across the nation looking for guidance dealing with the same situations. She is constantly seeking to find new ways to combat these mandates and will stop at nothing to spread the truth and create a massive awakening about the risks of this Covid shot.

Jennifer was on the front line during the pandemic and considered a true hero. Now, in the hospital's eyes, she is a zero, for asking questions about the safety of these vaccines and simply demanding medical freedom.
GUARDIANS OF MEDICAL CHOICE WAS FOUNDED BY JENNIFER BRIDGES AFTER FILING A LAWSUIT AGAINST HOUSTON METHODIST IN MAY OF 2021 REGARDING FORCED VACCINATION OF ITS EMPLOYEES.

FOLLOW OUR JOURNEY AND KEEP UP TO DATE ON OUR LAWSUIT HERE AS WELL AS OBTAIN THE CORRECT INFORMATION ABOUT THIS VACCINE AND COVID-19.
Houston Methodist doctor who resigned following suspension over controversial COVID-19 tweets
KPRC 2 Click2Houston on YouTube
Published Nov 17, 2021
23:23 viewing length
Robyn Gritz noted that Dr. Bowden at the Fall Fest event was visibly shaken and still trying to process all that had happened the past week. She had worked so hard for many years to become a doctor in order to help people and not to discriminate against anyone for any reason. She believes in patient autonomy and patient choice. She stated that the medical community should do all they can to treat anyone dying of Covid. We have proven safe methods. Ivermectin, Hydroxychloroquine, breathing treatments and Monoclonal antibody treatments for example.

Dr. Bowden posed these questions to the Houston Methodist Hospital:
1. Where is all the data?
2. How many employees that are vaccinated have gotten COVID?
3. How many of your patients in the hospital are fully vaccinated?
4. How many people that you have vaccinated have had serious adverse effects and why isn't this information on your website?
"Dr. Bowden is amazing! She really listens and then gives a variety of options to help solve any health or wellness problem. She is kind and easy to talk to. My family has gone to her for a variety of things (sinus therapy, allergy testing, weekly allergy shots, sinus infections, strep throat, Covid testing) and we could not be happier with our experiences. It is so easy to get in and out of her office, and her office is beautiful and comfortable unlike many doctor's offices. Everyone working with Dr. Bowden is upbeat and friendly. It's an all around fantastic practice and I highly recommend it!" "
— Rachel
Related
Story at-a-glance
At Lions Gate Hospital in North Vancouver, British Columbia, 13 babies were allegedly stillborn in a period of 24 hours; all of their mothers had received a COVID-19 injection
At a rally outside the hospital, doctors launched an official complaint with the Royal Canadian Mounted Police against executives at the College of Physicians & Surgeons of BC, alleging conflicts of interest influencing their policies, decisions and statements made to the people of British Columbia
Scotland has also experienced an unusual rise in infant death rates; during September 2021, at least 21 babies under 4 weeks died — a rate of 4.9 per 1,000 births, up from an average of 2 per 1,000 births
As of November 12, 2021, there were 2,620 cases of fetal death or stillbirth among women who received a COVID-19 injection reported to the U.S. Vaccine Adverse Event Reporting System (VAERS)
The CDC-sponsored study that was widely used to support the U.S. recommendation for pregnant women to get injected "presents falsely reassuring statistics"
When the risk of miscarriage was recalculated to include all women injected prior to 20 weeks' gestation, the incidence was seven to eight times higher than the original study indicated, with a cumulative incidence of miscarriage ranging from 82% to 91%
Promotion
Ruby Ray Media, the World's Premier Community Media Platform, was created to support Citizen Journalism at its finest
By accepting you will be accessing a service provided by a third-party external to https://rubyraymedia.com/