Voting Machine Fraud Exposed by Dr. Shiva
Dr. Shiva got cheated out of his nomination in Massachusetts and in his inimitable MIT professor fashion exposed the election fraud in his state in a BIG WAY.
The evidence of fraud is in your face and the media and establishment politicians all just lie about it. They are the enemy of the people.
Dems and RINOs only "win" by cheating and this has got to end!
Dr. Shiva in Bannon's War Room on Vote Machine Fraud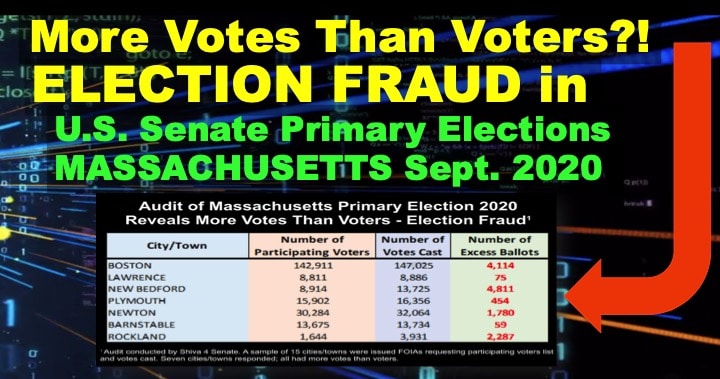 Massachusetts ignited the American Revolution. Let's BE THE LIGHT & FIGHT for the American Dream to Inspire, Educate and Innovate!
Related
In Thursday's (Nov. 19) monumental press briefing by the president's "senior legal team," Sidney Powell opened up her remarks with, "What we are really dealing with here, and uncovering more by the day, is the massive influence of communist money through Venezuela, Cuba and likely China, in the interference with our elections here in the United States."
UPDATE NOV 25:
Lou Dobbs: "Do you think we will see the Trump presidency saved?"

Sidney Powell: "Yes! I definitely do! There is no issue in my mind other than he was elected in an absolute landslide, nationwide."

UPDATE NOV 28:
More on "Kraken" - a cyberwarfare weapon for tracking election fraud.
UPDATE DEC 6:
"American elections have been just as rigged as elections in third world countries." Sidney Powell to Mike Huckabee.
UPDATE DEC 7:
Federal judge in Georgia dismisses Sidney's Kraken lawsuit, thereby indicting himself as one of [them.] SCOTUS next!
General Mike Flynn chimes in!
Promotion
By accepting you will be accessing a service provided by a third-party external to https://rubyraymedia.com/