Trump the Visionary announces "Salute to America 250"
Earlier this year President Trump promised a Freedom Cities initiative, giving us all a vision of things to come in an America Made Great Again.
Just today, May 31 2023, President Trump added to his MAGA campaign promising to enact a year-long "Salute to America 250" in the Year of our Lord 2026, 250 years after American Independence was declared and founded by its early fathers.
This is powerful stuff, my patriotic friends! President Trump is promising a year-long celebration including State Fairs in all 50 States! His vision pulls us out of the dumps of the current apocalyptic malaise that many feel as the war rages for our hearts and minds, putting us squarely on track to take our country back from the losers that try to take her down.
#ClaimtheVictory
President Trump announces Salute To America 250

RubyRayMedia on Rumble
Published May 31 2023
Length 3:32 (transcript below)

Transcript
President Trump
Three years from now, the United States will celebrate the biggest and most important milestone in our country's history. 250 years of American independence, what a great country. And we have to keep it that way.
But that's why as a nation, we should be preparing for a most spectacular birthday party. We want to make it the best of all time. Here's my plan to give America's founding in 1776 the incredible anniversary it truly deserves.
On day one, I will convene a White House task force called Salute to America 250. It will be responsible for coordinating with state and local governments to ensure not just one day of celebration, but an entire year of festivities across the nation starting on Memorial Day 2025 and continuing through July 4 2026.
Second, I will work with all 50 governors, Republican and Democrat alike, to create the Great American State Fair, a unique one year exhibition featuring pavilions from all 50 states, it'll be something. The Great American State Fair will showcase the glory of every state in the union, promote pride in our history and put forth innovative visions for America's future.
My hope is that the amazing people of Iowa will work with my administration to open up the legendary Iowa State Fairgrounds to host the Great American State Fair and welcome millions and millions of visitors from around the world to the heartland of America for this special one time festival.
Together, we will build it and they will come.
Third, alongside the Great American State Fair, we will host major sporting contests for high school athletes. These are great athletes, wonderful athletes from fantastic high schools all around the country. These Patriot Games will allow young Americans from every state to show off the best of American skills, sportsmanship, and competitive spirit.
Fourth, I will sign an executive order to bring back our National Garden of American heroes, which we want to build very badly, commissioning artists for the first 100 statues to populate this new statuary park honoring the greatest Americans of all time.
Fifth, as President, I will invite the leaders and citizens of nations around the world to visit the United States in honor of our 250th anniversary, it's going to be great. America's tourist industry should get ready because we're gonna have a lot of people coming, it will be a record year.
And finally, and most importantly, I will ask America's great religious communities to pray for our nation and our people as we prepare for this momentous occasion. From the very beginning, America has been a country sustained and strengthened by prayer and by our communities of faith.
As we chart a course toward the next 250 years, let us come together and rededicate ourselves as one nation, under God.
Thank you!
Logan Hall@loganclarkhall on Twittertrump is the only candidate outlining a future vision and not just reacting to the left. proposes yearlong USA birthday bash marking 250 years of independence and a "great american state fair" with displays from all 50 states, sporting events, and a new national monument.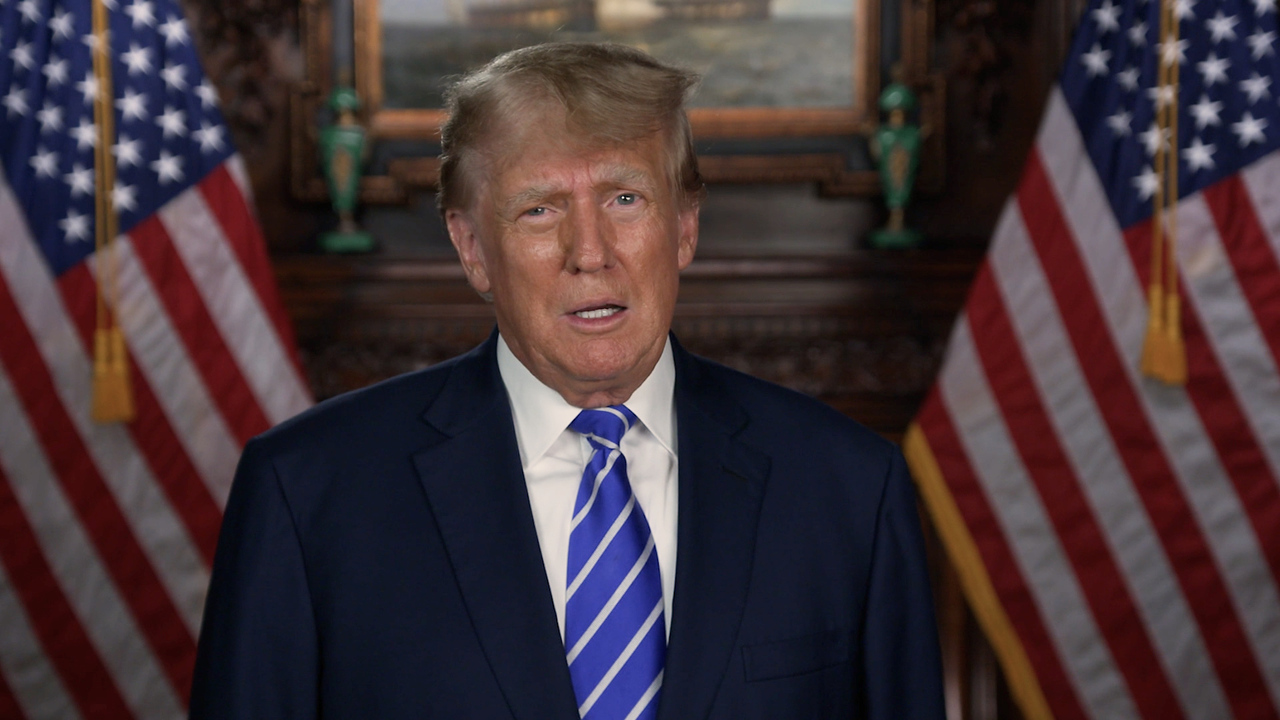 The former president is proposing a yearlong bash to commemorate 250 years of independence.
Donald Trump's latest idea to enshrine American greatness is to throw the country "the most spectacular" birthday bash — one that will last all year.
In 2026, the U.S. will celebrate the semiquincentennial: the quarter millennial since its declaration of independence. To commemorate the anniversary, Trump is proposing a blowout, 12-month-long "Salute to America 250" celebration. In a new policy video, Trump calls for a "Great American State Fair," featuring pavilions from all 50 states, nationwide high school sporting contests, and the building of Trump's "National Garden of American Heroes" with statues of important figures in American history like Frederick Douglass and Amelia Earhart.
"As a nation, we should be preparing for the most spectacular birthday party. We want to make it the best of all time," Trump said in the new policy video previewed by POLITICO.
RELATED
Trump's Freedom Cities and American Greatness by Paul Ingrassia

A Twitter thread and Substack article by Paul Ingrassia: "A Positive Vision For American Ingenuity In An Age Of Stagnation"

Perhaps the greatest plague affecting America right now is a crisis of stagnation, which pervades nearly every aspect of modern life: as seen in the diverse arenas of politics and technology to economics and culture to the general malaise of the country at large. While each of these categories may appear unrelated, the stagnation which unifies them springs from a common source. Their complex origins might only be described in general terms at best: bureaucratic largesse; systemic failures inherent in "mass" or "modern" democracy; a dispirited population, spiritually castrated by drugs, poisoned food, insidious propaganda, and technological overstimulation. A large part of this may be irreversible, following the natural cycle of a civilization once it transforms into an empire and then becomes decadent, at which point basic systems become dysfunctional, and the entire apparatus – mired by legalistic and bureaucratic overcomplexity – implodes by dint of its own handiwork.

RRM Content Creators: Visionaries, Poet Warriors, World Leaders
Ruby Ray Media, the World's Premier Community Media Platform, was created to support Citizen Journalism at its finest.
Citizen Journalists, multimedia content creators are the reason we are here. Raising up your voice is central to our mission. We are a team, lifting each other by the variety of our talents and skills. The most important element in this is capturing and sharing the unique thoughts, wisdom and artforms that come to us as we ponder the world in our hearts. Seeing now clearly how badly the people who arrogate themselves into positions of power and influence over us, are bungling the job. They have never attempted to serve the people who are the source of their wealth and power, they only seek to exploit us.
Our years of experience on social media have clearly proven to us, that the so-called "average" men and women living on this planet, have in our daily musings the extraordinary wisdom of how this planet needs to be run--it's a big planet, each one of us contains valuable insights into the many aspects of the whole. We support each one of us upping our games expressing the unique gifts each of us contains.
Your qualifications, are your courage to be born on this planet, and make your way living a worthy life. We are here to support you putting your thoughts and ideas into words and other artforms. The technicalities are simply hurdles to overcome, the challenge is summoning the courage to say what is in our hearts and minds. We recognize that every soul born, simply by delving into our hearts, can contact Infinite Wisdom, the Holy Spirit. Maybe not so clearly at first for those with less experience exploring within, and certainly a lifetime of growing and developing our ability to put words to the wisdom we inherently contain.
We have spent the years developing this platform, to support you with the technical foundations for sharing your message with the world, including our Creators Guild, welcoming you into the precious and sacred community of like-minded spirits, bridging any gaps we each may have in our areas of competence. For example, no matter how good of a writer you are, trying to edit your own work is something like herding kittens, and it has been well said that working with HTML web page language, is like trying to paint on water. Far better to work in collaboration with fellow warriors for mutual benefit, rather than spending hours doing poorly at something it takes a person with the talent, minutes to pop it over the top!
What I am hoping to convey to you, is that so often the shyest spirits among us, those who so often hold their tongues, remaining silent fearing to speak that most dangerous of substances--the truth, have shuttered within themselves exactly the things the world most desperately needs to hear and learn. If you think about it, we just came to the brink, of the end of our civilization, for the lack of this type of individual expression acting in counterpoint to the corporate and globalist agenda we are literally assaulted by.
We all need, to get the Word out. Mother Earth herself, is dying for us to speak in her behalf with a grain or two of common sense.
You won't know what you can accomplish, until you give it a good try taking it to the next level. We are here to support you overcoming the technical hurdles to sharing your thoughts, wisdom, art, vision, with the world via the internet, the most powerful communication medium in human history.

The best way to get started, is to load your MyRubyRay Arsenal with ammunition, posting content here exactly like you would on FB and Twitt. When you are ready to jump into Citizen Journalism, publishing your articles, research, art etc as articles and features in Top Stories and other RRM Categories, it's time to join the Creators Guild becoming an RRM Author and Editor!
One of our authors has an RRM article that popped past 80k hits, while we were still testing the site. Seeing your FB or Twitt posts languishing as usual at one or two dozen engagements, watching the same posts on RRM pulling thousands of hits, you'll get quite clearly why we built this.
If you haven't already begun your RRM adventure:
By accepting you will be accessing a service provided by a third-party external to https://rubyraymedia.com/