On Friday Oct 2 President Trump revealed he was diagnosed with the Wuhan Flu and upon advice of his doctors that evening admitted himself to the Walter Reed National Military Medical Center, upon which he received a miracle cure!
---
PRESIDENT TRUMP IS HAVING A MAGA RECOVERY!
Oct 10, the evening of the 10th day of President Trump's onset of symptoms, White House physician, Dr. Sean Conley, declared in accordance with CDC guidelines, Presdient Trump is no longer Wuhan flu contagious.
This is certainly wonderful news for everyone, but most of all it is great news for President Trump who is eager to get back to work on the campainge trail and is already slated to host a large MAGA style campaign rally in Sanford, Florida, on Monday, October 12.
Upon entering Walter Reed hospital Oct 2, President Trump was treated with a combination therapy, got a lot of work done, did a presidential limo drive by wave to fellow patriots outside the medical center and went home the very next day, Monday Oct 5.
He has repeatedly stated that the first Regeneron transfusion got him back to better than normal in just a few hours!
Just four days after his release, the president declared that he was in tippy-top shape, doing phone interviews and rallies with no issues. He sounds fantastic, sharp and witty, and back in the game as if he had never left it!
Included here is the full length audio recording of President Trump's first ever "radio rally," the "Largest Radio Rally in History," "MEGA MAGA," presented on the Rush Limbaugh Show on Friday Oct 9, drawing 50 million listeners! The president appears to be even better than his old self.
---
https://www.rushlimbaugh.com/videos/free-video/mega-maga-the-largest-radio-rally-in-history/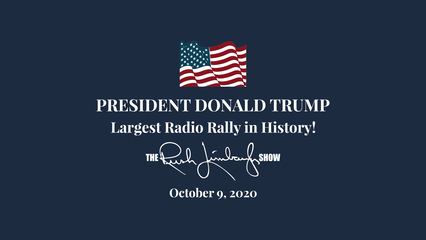 MEGA MAGA! The Largest Radio Rally in History
---
President Trump is feeling so well that, on the same day as the Radio Rally, he does his first on-air live interview with Dr Marc Siegel.
Dr Siegel asks the questions we all want the answers to regarding the president's health.
---
YouTube
Trump joins 'Tucker' for first on-camera interview since COVID-19 diagnosis
That wasn't the end of it. Later that same day, the president was on the Mark Levin Show for a phone interview.
Nothing can keep President Trump down.
He is an enigma!
---
---
https://rubyraymedia.com/index.php/top-stories/together-we-are-rebuilding-our-nation
Ruby Ray Media
Together, we are rebuilding our nation
https://rubyraymedia.com/index.php/top-stories/wuhan-flu-view-all-articles/election-infection-the-cold-hard-facts
Ruby Ray Media
Covid: The Cold Hard Facts and Some Hard Questions
Promotion:
MyRR Arsenal: A mighty tide has begun, people are coming to RRM for many reasons, including a censorship-free safe haven for their content--and best of all, it's free! In addition to enjoying some of the best news and commentary on the internet!
---
https://rubyraymedia.com/index.php/top-stories-view-all-articles/host-your-content-where-it-can-t-be-censored
Ruby Ray Media
Free Membership: Posting Your Content Securely in Your MyRR Profile, Pages and Groups is Fast and Easy