Kari Lake is Ultra MAGA
UPDATE 6-22: Kari blasts the swamp with both barrels on "shall not be infringed." Also, other tweets from Kari in the last 24 hours. To say that Kari is making it clear where she stands is a great understatement!
Not being Arizona news-watchers here, we didn't know what to think of the long-time regional news anchor Kari Lake when she first threw her hat in the ring for governor; but, we quickly found out how solid of a maga-maverick she is! She's only getting stronger!
AZ Governor Candidate Kari Lake: Corrupt Mainstream 'Refusing' To Cover Largest Stories In America

Bannons War Room on Rumble
Published June 21 2022
Length 9:43


Kari Lake urges current AZ Governor to do more on border crisis and declare an invasion

Just the News on Rumble
Published June 20 2022
Length 12:00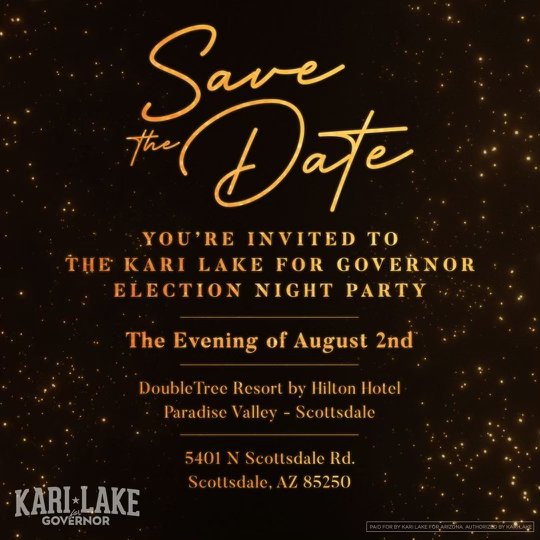 Previously a top news anchor in Arizona for 27 years, Kari Lake announced she is running for Governor of Arizona. Learn about Kari's initiatives and news related to her bid for Governor.
June 22 UPDATE - More tweets, both barrels blazing!
(We're kind of wondering how torn they are at Twitter now that Elon has exposed their soviet-level cancel culture, wishing they could just cancel Kari.)
Arizona truly is the Wild West with fearless gunslingers taking on ruthless psychopathic control freaks at every level of Arizona politics. It just doesn't get any more black-and-white than right here in the southwest desert. Kari Lake is wearing a big white hat, exposing the slick black-hat culture that says one thing and does another, every single time.
When I'm Governor, Arizona will not recognize unconstitutional Gun Laws in our state. We just won't do it.

What are the Feds going to do? Fly down here and arrest a sitting Governor? Call my bluff.

— Kari Lake for AZ Governor (@KariLake) June 22, 2022
Dear Swamp,

Here in Arizona, we don't operate by federal edict, we go by the Constitution.

So let us ask, What is it about "shall not be infringed" that you don't understand?#Karizona

— Kari Lake War Room (@KariLakeWarRoom) June 22, 2022
We all have the privilege of watching the RINO Establishment Arizona Consultant class lose their power over our state, in real time…

Isn't it beautiful? pic.twitter.com/ZtDRw5LVTe

— Kari Lake for AZ Governor (@KariLake) June 22, 2022
BREAKING: AZ House Speaker Rusty Bowers warmly embraces Liz Cheney after testifying at the SHAM J6 Hearings.

Rusty stabbed Arizona in the back.

We MUST support his America-First primary opponent, David Farnsworth. I have endorsed David. I am asking that you do the same! #MAGA pic.twitter.com/m8tB3evyKH

— Kari Lake for AZ Governor (@KariLake) June 22, 2022
My Democrat Opponent just launched a Radical AOC-Style energy policy.

She will abandon our state's rich natural resources in favor of a costly, unscientific, job-killing agenda.

Katie Hobbs will do everything she can to turn our Arizona Paradise in to a California NIGHTMARE. pic.twitter.com/CdqR5JPfCV

— Kari Lake for AZ Governor (@KariLake) June 21, 2022
While I'm happy to lead the Arizona First movement, I can't achieve all of my priorities without the help of a strong legislature.

I choose my endorsements carefully.

The establishment class is a poison on Arizona Politics. We are the antidote. pic.twitter.com/SHWan4FQs1

— Kari Lake for AZ Governor (@KariLake) June 21, 2022
PAGE 2! Karrin Taylor Robson's Liberal Record wouldn't fit on just one page.

Arizona will not be fooled by the millions her husband is putting into Attack Ads. She is the most Liberal "Republican" Arizona has ever seen.

See for yourself ⤵️
SHARE & RT! pic.twitter.com/kg6N8LoulV

— Kari Lake for AZ Governor (@KariLake) June 21, 2022
Related
We have been showcasing strong, brave citizens from around the country who are rising up to challenge entrenched politicians, many throwing their hat into the political arena for the very first time.
MyRubyRay Arsenal: A mighty tide has begun, people are coming to RRM for many reasons, including a censorship-free safe haven for their content--and best of all, it's free!
By accepting you will be accessing a service provided by a third-party external to https://rubyraymedia.com/