Gates-Funded Vaccines Causing Human Destruction Worldwide
The pharmaceutical vaccination scam is falling apart right before our eyes folks. NO more conspiracy theory! IT IS NOW ESTABLISHED FACT that large numbers of people have been seriously injured and killed by the vaccine industry. And now they are being forced to admit it! Well done digital warriors and citizen journalists...eyes are being opened wide that can never be shut again!
"This really should be one of the biggest scandals in public health, but it's given little attention – mainly because of the high-profile nature of the people and organisations involved.
"The United Nations has been forced to admit that a major international vaccine initiative is actually causing the outbreak of the very disease it was supposed to wipe-out.
"While international organisations like the World Health Organization (WHO) will regular boast about supposedly 'eradicating polio' with vaccines, the opposite seems to be the case. Their decades-long campaign to eradicate polio is now killing scores of innocent young people living in poor countries.
"Now it seems that health officials are beginning to admit that their plan to stop 'wild' polio is backfiring, as scores children are being paralyzed a deadly strain of the pathogen derived from a live vaccine – causing a virulent of polio to spread."
21stCenturyWire.com goes on to say:
"The latest pharma-induced pandemic started out in the African countries of Chad and Sudan, with the culprit identified as vaccine-derived polio virus type 2.
"Officials now fear this new dangerous strain could soon 'jump continents,' causing further deadly outbreaks around the world.
"Shocking as it sounds, this Big Pharma debacle is not new. After spending some $16 billion over 30 years to eradicate polio, international health bodies have 'accidentally' reintroduced the disease to in Pakistan, Afghanistan, and also Iran, as the central Asia region was hit by a virulent strain of polio spawned by the a pharmaceutical vaccine. Also, in 2019, the government of Ethiopia ordered the destruction of 57,000 vials of type 2 oral polio vaccine (mOPV2) following a similar outbreak of vaccine-induced polio.
"The same incident has happened in India as well.
"It's important to note that the oral polio vaccine is being pushed by the Global Polio Eradication Initiative (GPEI), a consortium which is supported and funded by the Bill & Melinda Gates Foundation.
"All of this should be cause for concern, especially with western governments and transnational pharmaceutical giants all rushing to roll-out their new Gates-funded experimental coronavirus vaccine for the global population.
"Currently, the first experimental COVID-19 vaccine is being tested on the African population through GAVI Vaccine Alliance, another organization funded by the Gates Foundation. A large round of human trials is taking place in South Africa, run by the University of the Witwatersrand in Johannesburg—another Gates-funded institution.
"This latest revelation from Africa should prompt journalists and health advocates to ask harder questions about the efficacy and safety of the much-hype COVID 'miracle' vaccine."
NEWS WIRE - 21stCenturyWire.com

This
AP News
report gives further details:
Bill Gates-funded vaccine programs in Africa causing polio (!) in several African countries. This is from AP news now... can't call it "conspiracy theory" any more. https://t.co/izPj6qiOeQ

— BellinghamToday (@BellinghamToday) September 5, 2020
"LONDON (AP) — The World Health Organization says a new polio outbreak in Sudan is linked to an ongoing vaccine-sparked epidemic in Chad — a week after the U.N. health agency declared the African continent free of the wild polio virus.
"In a statement this week, WHO said two children in Sudan — one from South Darfur state and the other from Gedarif state, close to the border with Ethiopia and Eritrea — were paralyzed in March and April. Both had been recently vaccinated against polio. WHO said initial outbreak investigations show the cases are linked to an ongoing vaccine-derived outbreak in Chad that was first detected last year and is now spreading in Chad and Cameroon."
MARIA CHENG - AP News
This of course should be a top 'main stream media' news story! However, the Fake News Corporate Monopoly is funded and controlled by the extremist factions who actually orchestrate these crimes, so they will remain silently complicit, while the death-toll continues to rise. It is up to Citizen Journalists to get this type of vital information to the public.
This is not at all an isolated event. As the article below reveals, Gates is under investigation for maiming and killing children in Africa, India and Italy, and that is likely only the beginning, as Gates and others are also implicated in orchestrating the Chinavirus Plandemic.
"The latest call for the billionaire's arrest comes after several tragic instances involving Gates-funded vaxx tests, which suggest Gates sees vaxxes as a means to achieve his global "population control" (mass-murder) ambitions. The anti-humanity agenda is massively funded and promoted by the foundation bearing his name.
"
PROMOTION:
Free: Posting Your Content Securely in Your MyRR Profile, Pages and groups is Fast and Easy

MyRR Arsenal: A mighty tide has begun, people are coming to RRM for many reasons, including a censorship-free safe haven for their content--and best of all, it's free!
If you are interested in learning more about the dangers and ineffectiveness of vaccines, be sure to check out
Vaccines.news
.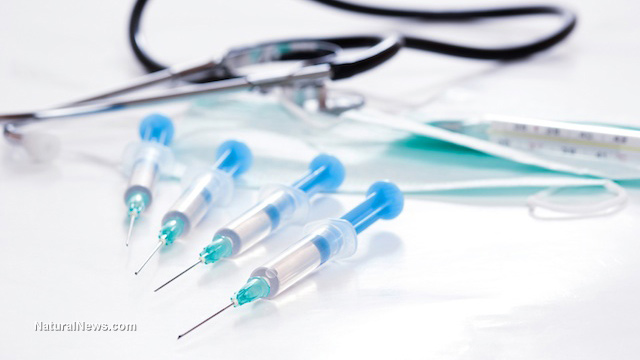 Vaccines News | Vaccines News Health Related News
Loading comment...
The comment will be refreshed after

00:00

.
By accepting you will be accessing a service provided by a third-party external to https://rubyraymedia.com/