With so many children being exploited around the globe, it is indeed wonderful and heartwarming to find so many concerned police and other organizations such as Operation Underground Railroad, working so hard to stop these horrible predators and to rescue children from slavery. This article takes a look at "Operation Vampire Cough" in Mesa, Arizona and "Operation Moving Target" in NE Ohio as well as other factors related to ending human trafficking.
Operation Underground Railroad: "With support and resources from O.U.R., the City of Mesa Police Department arrested eight men during a recent undercover operation. These men were arrested after soliciting or negotiating deals for the opportunity to rape children. A special thanks to doTERRA Healing Hands Foundation for their continued contributions that reinforce operations like Operation Vampire Cough."
Mesa Police Department: "Operation Vampire Cough – Child Sex Crimes Arrests. The Mesa Police Department recently carried out Operation Vampire Cough, an undercover operation targeting the demand for child sex crimes and human trafficking of children. Throughout the operational period, officers and undercover detectives placed ads on websites commonly sought out by suspects seeking illegal sex acts. The suspects solicited and/or brokered deals for various child sex acts and were subsequently arrested.The Mesa Police Department routinely conducts operations of this type in a continuous effort to reduce the demand that fuels human sex trafficking from our community. Eight arrests were made for child sex crimes charges during this operation and the suspects ranged in age from 20 to 37 years old. Some of the charges include:
• Luring a child for sexual exploitation, a class 3 felony
• Aggravated luring a child for sexual exploitation, a class 2 felony
• Child sex trafficking, a class 2 felony
• Attempted sexual conduct with a minor, a class 3 felony
• Money laundering, a class 3 felony
• Felony arrest warrant(s)
The Mesa Police Department partners with organizations and survivor advocates to assist victims who have been exploited or trafficked.
If you have information about someone being trafficked, contact your local police department or the National Human Trafficking Hotline at (888) 373-7888. Their website is https://humantraffickinghotline.org/.Our partnership with the Hickey Family Foundation and Operation Underground Railroad (OUR) was crucial to the success of this investigation. For more information about human exploitation and trafficking and how to help, please visit:https://www.mesaaz.gov/residents/police/units-divisions/mesa-family-advocacy-center/sex-trafficking-heat
Operation Moving target in Ohio netted 27 men who were attempting to gain access to children.
"CLEVELAND — Twenty-seven men were arrested as part of "Operation Moving Target," an undercover operation led by the Ohio Internet Crimes Against Children (ICAC) Task Force.
"The four-day operation began Monday and concluded Thursday. The men arrested --between the ages of 21-61 years old-- allegedly engaged in sexually explicit online conversations with undercover officers while posing as children, according to Cuyahoga County Prosecutor Michael O'Malley.
"Contact was made through popular social media applications. The defendants apparently expressed an interest in engaging in sexual activity with the purported children and/or disseminated images of their genitals during these online conversations.
"Following the conversations, the prosecutor's office says the men traveled to a prearranged location --a vacant house in Cuyahoga County-- to engage in sexual activity with who they thought were children. When the men arrived, they were arrested and taken to the county jail.
"Several of the suspects had firearms, condoms, personal lubricant, sex toys and drugs, officials say. Initial charges that were filed against the defendants include attempted unlawful sexual conduct with a minor, disseminating matter harmful to juveniles, importuning, and possession of criminal tools.
"Each one will be presented to a Cuyahoga County grand jury. Those arrested are:
Rajwant Singh, 44, Mayfield Heights
Adam Davis, 41, Painesville
Germaine Truett, 38, Cleveland
Jason Johnson, 37, Cleveland
Ronel Washington, 24, Garfield Heights
Hector Pietri, 29, Cleveland
Kyle Vansteenburg, 28, Cleveland
Raphael Robinson, 26, Cleveland
Cory Huber, 32, Elyria
Michael Labandano, 39, Lyndhurst
Nicholas Cook, 38, Bedford Heights
Chazz Johnson-Hawks, 22, Solon
Ian Rensel, 43, Bedford
Jerry Harris, 35, Westlake
Carson Stmisa, 21, Seven Hills
Justin Cowger, 22, Cleveland
Kim Koran, 61, Cleveland
Nathan Troup, 39, New Castle, Pennsylvania
Abed Aldur, 45, Parma
Arturo Martinez, 47, University Heights
Phillip Jones, 30, Streetsboro
Keith Kozak, 41, Brooklyn
Pedro Correa Jr., 42, Cleveland
Ryan Demplsey, 37, Ashtabula
Johnathan Smith, 34, Cleveland
Robert Spisak, 45, Broadview Heights
Jason Schmucker, 37, Canton
"Operation Moving Target was coordinated by the Ohio ICAC Task Force along with partners of the U.S. Department of Homeland Security, U.S. Department of Justice, the FBI, the U.S. Secret Service, the Ohio Adult Parole Authority, Ohio BCI, Newburgh Heights Police, Solon Police, Kent Police, Streetsboro Police, Cortland Police, and Cleveland Police."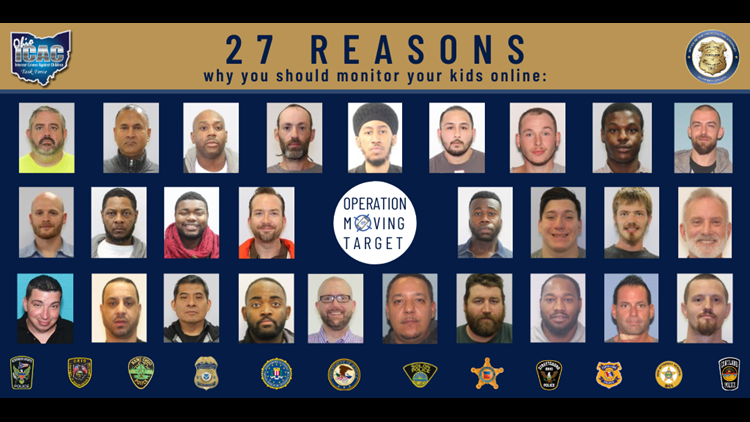 The group was arrested as part of 'Operation Moving Target.'
Back in September of last year, in just one day alone as noted in the below article, 123 children were rescued by police in Michigan after weeks of investigations. According to the Office of Global Perspectives and International Initiatives, from the University of Central Florida, it will be specialized police units that will suffer the most under this de-funding campaign. In a article entitled, "What Would Defunding the Police Mean for Ant- Human Trafficking Efforts", the UFC organization says, "It is the specialist nature of investigating and prosecuting human trafficking cases at the local level that would be affected by defunding policing agencies. In 2016 there were 3,012 Sheriff's offices and 12,261 local police agencies in the United States. Just over 70% of local police departments served communities of fewer than 10,000 people; and 3% of local departments served populations of 100,000 or more people, employing 52% of all full-time sworn police officers. About 12% of full-time sworn officers were female; 27% were minority status, African American (11%) or Latinx (13%), with higher proportions of minority officers serving in larger jurisdictions."
An opinion piece written up in Newsweek on June 23 of this year by Jaco Booyens, reminds us succinctly that cutting funds to police departments would be catastrophic to the fight to end human sex trafficking of children and adults. He says, "Contrary to the claim that the local police are a "cancer" in our society, the men and women of law enforcement play a critical role in protecting American communities from the scourge of organized crime, including sex trafficking. While nonprofit organizations and other humanitarian groups can provide a critical service by helping to identify and expose human trafficking networks, as well as aid tremendously in the rehabilitation of survivors, our work can simply not be completed without a strong, dedicated police department in every city.
"Private citizens can't obtain search warrants to investigate suspects or arrest suspected kidnappers and pimps—and that's exactly the way it should be. Building a bulletproof case against sex traffickers requires meticulous attention to detail and years of law enforcement experience. Rescuing a single child is a massive collaborative operation between NGOs and law enforcement. Because the monsters who sexually exploit innocent children often belong to powerful criminal organizations with the resources to defend themselves in court, we can't afford to make even the tiniest mistake when we prosecute them."
As Mr Booyens points out, we simply cannot continue this important fight without local and other police forces and de-funding them would mean that children would be sacrificed. "America has come a long way in its fight against sex trafficking, over the years—but the campaign to "defund the police" threatens to reverse that progress. The only way to effectively protect innocent children from human traffickers is by ensuring that the police have the training and resources they need to identify and catch predators."
There are many such stings going on around the country as those mentioned in this article, take this one below. Without local police, state police, FBI and private individuals who were involved this operation could not have succeeded. Seven children were rescued in this operation. Many more need our help around the country.
17 arrested in child-trafficking sweep in Genesee County
"(UPDATE: Firefighter, former police officer among 17 arrested in Flint-area sex-trafficking sting)
"GENESEE COUNTY, MI – A law enforcement operation targeting child traffickers led to the arrest of 17 people, county sheriff Chris Swanson announced at a press conference on Friday evening.
"At 8 p.m. Friday, Aug. 14, Swanson also said that a rescue operation earlier that day had located seven children who had gotten "lost in the cracks."
"Over the course of five months, Swanson said that a team in his department known as GHOST - the Genesee Human Oppression Strike Team - had set up six stings, during which law enforcement agents posed as 13, 14, and 15-year-old children on social media sites.
"People who then arrived at locations expecting to be able to assault those children were instead arrested, and will be prosecuted, Swanson said. He did not say where they are currently being held, if arraignments have already taken place, or what the charges are likely to be.
"The people arrested came from across the county, including Grand Blanc, Davison, Flint Township and Fenton, Swanson said, as well as from outside the county.
"One was a Burton firefighter who'd also previously served as a police officer in multiple agencies outside the city, which Swanson did not name.
"That person has been charged with two 20-year felonies and a four-year felony, Swanson added.
"The rescue operation on Friday included a search for 27 children known to have "gone off the grid," Swanson said, per information from schools, hospitals, probate courts, and human service agencies, including child welfare and the foster care system.
"Seven four-person teams, composed of police officers and social workers, conducted the search from 8 a.m. to 1 p.m. on Friday, according to Swanson, which turned up seven of those children, aged 17 and under.
"One 16-year-old girl was found locked in a barn in Montrose, Swanson said.
"The fear in her eyes was real," he added.
"It was the county's third such rescue operation, Swanson said. The GHOST Team also conducted rescue sweeps in 2018 and 2019, he said.
"The GHOST work was a partnership between many township and city police departments, as well as state police, the FBI, and a training group composed of ex-Navy SEALs, one of whom spoke on Friday.
"Over the course of the sting operations, Swanson said that law enforcement made contact with 2,000 people who were seeking "sexual relations with vulnerable kids."
"The ones that actually come (to meet the child), those are ones that are going to really harm," he said.
"The names and professions of some of the people rounded up during the first two sting operations, in March and April, will be announced next week, Swanson said.
"These are people from all walks of life," he added.
"(NOTE: The story has been updated to clarify one of the people arrested was a Burton firefighter who also previously worked for police agencies outside of the city.)"
Enter some description here...