Cleric Critic Cancelled by Pope Francis: "I've threatened some of the powers that be with the truth of the gospel." ~ Bishop Strickland
With the same tyrannical unethical behavior exhibited while firing clergy who refused to advise their congregations to take the c19 jab, Pope Francis, who has lost favor with much of the Catholic population, better defines his dictatorship by now firing Bishop Strickland.
Bishop Joseph E. Strickland has been a dearly beloved shepherd to thousands of faithful Catholics in Tyler, Texas, since 2012. That is until his sudden removal on Saturday, Nov 11, 2023. His diocese is stunned, although the reason seems to be clear. Bishop Strickland is an outspoken critic of many reforms instituted by Pope Francis and is now being rewarded for his transparent honesty.
Bishop Strickland has his own website, hosts a weekly radio program, and has an X account. He uses these platforms to reach the people he serves and to voice his opposition to Pope Francis's many unorthodox, progressive political moves.
As reported by euroNEWSS,
(Pope) Francis has not been shy about his concerns about the right wing in the US Catholic hierarchy, which has been split between progressives and conservatives who long found support in the doctrinaire papacies of St. John Paul II and Benedict XVI, particularly on issues of abortion and same-sex marriage.
In comments to Portuguese Jesuits in August, Francis blasted the "backwardness" of these conservative bishops, saying they had replaced faith with ideology and that a correct understanding of Catholic doctrine allows for change over time.
Strickland had been associated with the most extreme of these bishops, including the former Vatican ambassador to the US, Archbishop Carlo Maria Vigano, a fierce Francis critic who, in 2018, called for the pope to resign.
Strickland backed Vigano's conspiracy theories about the COVID-19 pandemic, and on Saturday, Vigano wrote that Strickland's ouster showed a "cowardly form of authoritarianism" by Francis. "This affair will reveal who stands with the true Church of Christ and who chooses to stand with His declared enemies," Vigano wrote on X.
This is not simply a religious feud of Old vs. New; it is a matter of spiritual principles the pope's office once revered as unwavering. However, this pope has allowed those principles to decay into a black hole of evil intent. The papacy has lost touch with its divine service to the people. Pope Francis's actions are far removed from the Godly inspired intentions his office is meant to have and pass on to the people it serves.

The most vocal critic of the pope, Bishop Viganò, not only opposes Pope Francis's apostate actions, he details why:
"In these ten years of his "pontificate," we have seen Bergoglio do everything that would never be expected of a Pope, and vice-versa, everything that a heresiarch or an apostate would do. There have been occasions when these actions have appeared manifestly provocative, as if by his utterances or certain acts of government, he deliberately wanted to arouse the indignation of the ecclesial body and urge priests and faithful to react by giving them the pretext to declare them schismatic. But this typical strategy of the worst Jesuitism is now uncovered because the whole operation has been conducted with too much arrogance and in areas on which not even moderate Catholics are willing to compromise. The sexual scandals of the clergy, and in particular the response of the Holy See to the scourge of moral corruption of Cardinals and Bishops, have shown a shameful disparity of treatment between those who belong to Bergoglio's so-called "magic circle" and those he considers adversaries" ~ source: RRM

Bishop Joseph Strickland now holds a special place next to dear Bishop Viganò for being censored and canceled by Pope Francis for red-pilling his flock.
LIFESITENEWS
broke the story of Bishop Strikland's removal 6 hours after it occurred with an interview. In the candid video below, it's apparent his attitude and love of God is passionate. He is at peace with all of his decisions, and rightfully so. He is a humble soul who boldly lives his faith.
John-Henry Westen's exclusive interview with Bishop Strickland
RubyRayMedia on Rumble
Published Nov 11, 2023
Length 29:14

"I encourage myself and others to go more deeply than ever into prayer, to pray for Pope Francis, to pray for the church, to pray for our world. Certainly, I appreciate the prayers, and I need them and to pray for the Diocese of Tyler and the many people whose lives are disrupted by this. But we move forward, hopefully. And it's my prayer that we're closer to the Sacred Heart of Christ than ever through this. Urge people not to feel like they can walk away from the church. We are one body; we are the Mystical Body of Christ, that is, the church, so those are my thoughts, among many others. But those are the essential thoughts that we continue in faith, we walk forward in faith." ~ Bishop Strickland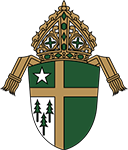 Dear Friends in Christ,

Welcome to BishopStrickland.com, a site where I will seek to share the joy and love of Jesus Christ through my personal reflections on the Good News of the Gospel and our faith as Catholics.

✠ Bishop Strickland
Related:
Archbishop Viganò indicates Pope Francis is the "handmaid" of the New World Order: When Archbishop Viganò speaks, the world listens. In this time of change, the maelstrom of controversy is not relocated only to the political realm. Many Christian religious orders have decried a lack of authentic spiritual leadership for over a decade. The voice of Archbishop Carlo Maria Viganò has been at the forefront of those brave leaders sounding the alarm of caution to his followers and all who will take heed of the warnings.
By accepting you will be accessing a service provided by a third-party external to https://rubyraymedia.com/