4 Oct 2020 Flynn's tweet quotes Luke 8:17

We've known for almost four years why the Luciferian deepstate buried itself deep into the ground with this desperately farcical effort to slander and destroy impeccable people like Flynn and Trump. The important thing is to gently awaken the sleepers, so the shock of the reality doesn't put them all in rubber rooms as this long overdue story unfolds.
---
https://twitter.com/GenFlynn/status/1312709642162667521?s=20
---
"Appalling… Stunning… Third World… Political Prosecution"
Sidney Powell Announces She Is Filing a Motion to Disqualify Corrupt Judge Sullivan in Flynn Case
Yesterday the General Flynn case was back in court again.
"After more than four years of corrupt investigations and indictments and the government finally acknowledging their crimes in setting up General Flynn, the government decided to drop its case after a review within the DOJ.
"But this did not stop the corrupt Deep State to continue their prosecution of General Flynn. The corrupt judge in the case refuses to close the case and has even brought in his very own 'special counsel' to help him prosecute the case. This has never happened before in US history. It is corrupt to the core and when the case was taken to the corrupt Appellate Court in DC they allowed it to continue.
"War hero and good man General Flynn remains an abused and persecuted man due to his knowledge of Obama era corruption and his desire to clean it all up with the Trump team.
"During the hearing Powell told the judge that he had abject bias a couple of times. She then shared:
"We will be filing a motion to disqualify him because the comments he made today reflect pure political ambitions and continuing the prosecution of General Flynn and other actions since the court remanded it to him also to the same. It was absolutely appalling Lou. It was just nothing short of stunning. I would have thought we were in a third world country where political prosecutions are common place…

"…Yes, they have gone after him, hammer and tongs. No amount of evidence that has been produced would dissuade them. In fact the way they dealt with that was to simply pretend that it does not exist. It was obvious Judge Sullivan had not even read the multiple exculpatory files that had been given to him. He clearly didn't know that the first plea was void because Judge Contreras had to be recused or that he had failed to do a complete Rule 11 colloquy in the second instance. That's because he apparently hasn't read our briefs on those subjects. He's focused only on what his friend Mr. Gleeson gave him to read which belies the actual facts that cause and require the case be dismissed.
Politically Corrupt Judiciary: @SidneyPowell1 is filing a motion to force Judge Emmet Sullivan off the Gen Michael Flynn case because of his political bias. #MAGA #AmericaFirst #Dobbs pic.twitter.com/kFDLYBQg0F

— Lou Dobbs (@LouDobbs) September 29, 2020
"It really comes down to this. Do we have a fair and just Justice system or are we a banana republic? Right now it looks like we are a banana republic due to the massive corruption and criminal acts of the Obama Administration that have yet to be cleaned up."
Jim Hoft - Gateway Pundit
---
https://www.thegatewaypundit.com/2020/09/appalling-stunning-third-world-political-prosecution-sidney-powell-announces-filing-motion-disqualify-corrupt-judge-sullivan-flynn-case/?utm_source=Twitter&utm_campaign=websitesharingbuttons
Originally published Wednesday, 30 September 2020
https://twitter.com/realDonaldTrump/status/1309876047324893188?s=20
Seems like something the FBI Director could have cleared up years ago, instead of letting this BS drag on throughout President Trump's entire first term. The O'Biden Administration literally tried to take Trump down. Always knew it, but now we FACTUALLY know it! Unbelievable!! https://t.co/I9ur1ZIimt

— Dan Scavino🇺🇸🦅 (@DanScavino) September 25, 2020
Crooked H was supposed to win. This was all supposed to be swept away...and the American People were never to find out. But—Trump won, and the S&%# is hitting the fan. Now the plan is to get Biden (who knew) back in, to put an end to what's unfolding. Don't let it happen, VOTE!! https://t.co/83bZnE6XPA

— Dan Scavino🇺🇸🦅 (@DanScavino) September 25, 2020
Attorney @SidneyPowell1 Never Leaving The Fight:

▶️ Filing
A Motion To Dismiss
With Judge Sullivan

▶️ If Judge Sullivan
Will Not Dismiss The Case Against @GenFlynn

▶️We Will Take It To The Supreme Court Immediately#ExonerateGeneralFlynn pic.twitter.com/rFKOZUucAF

— Dr. Marty Fox 🇺🇸 (@DrMartyFox) September 25, 2020
Next declassification could flip Russia collusion script, point to effort to hurt Trump
Former NSC official says some evidence cut against claim Russia was helping Trump.
"The Trump administration is preparing one of its biggest declassifications yet in the Russia case, a super-secret document that could flip the collusion theory on its head four years after the FBI first started its investigation.
Multiple officials familiar with the planned declassification, which could happen as early as this week, told Just the News that the new evidence will raise the specter that Russian President Vladimir Putin was actually trying to hurt President Trump, not help his election in 2016, as the Obama administration claimed.
The new evidence would complement a revelation last week that the primary source for the Christopher Steele anti-Trump dossier was known to the U.S. government to be tied to Russia intelligence, raising the possibility that the Russians were undercutting the GOP nominee.
Senate Judiciary Committee Chairman Lindsey Graham, R-S.C., hinted at the big revelation in a Sunday appearance on the Fox News show "Sunday Futures with Maria Bartiromo."
"Everything Russia-Trump was looked at. You had $25 million, 60 agents. You had subpoenas, you had people's lives turned upside down," Graham said. "The question is, 'Did they look at Russia coming after Trump?' "
Referring to last week's revelation, Graham added: "We've got a Russian spy on the payroll of the Democratic Party putting together a document that details the FBI was not reliable."
The possibility that the FBI and CIA had reason to suspect Russia was trying to hurt Trump and help rival Hillary Clinton first emerged in a Just the News article last month that revealed a House Intelligence Committee secret report accused the U.S Intelligence Community Assessment of ignoring credible evidence that the Russians tried to help Clinton in 2016.
"When I was briefed on the House Intelligence Committee report on the January 2017 ICA, I was told that John Brennan politicized this assessment by excluding credible intelligence that the Russians wanted Hillary Clinton to win the 2016 election and ordered weak intelligence included that Russia wanted Trump to win," former CIA and National Security Council official Fred Fleitz said last month.
Brennan was the CIA director at the time.
"I also was told that Brennan took both actions over the objections of CIA analysts. I am concerned about what happened to these analysts and worry that they may have been subjected to retaliation by CIA management," Fleitz also said. "These analysts are true whistleblowers, and they should come to the congressional intelligence committees to tell their stories and set the record straight on the ICA."
An official familiar with the document said it will show the intelligence community "cherry-picked pebbles of evidence" to make the case Russia sought to help Trump win in 2016 when there was similar evidence to the contrary.
Several prominent Russia experts, including the CIA's former station chief in Moscow, have argued that the intelligence community assessment got it wrong and that Russia's true intention in 2016 was actually to sow chaos and discord in America without regard to which candidate won."
Just The News
Epic hearing: Flynn defense to confront judge in bid to get Russia charge dismissed
After release of bombshell documents, defense lawyer Sidney Powell makes last pitch to dismissing lying charge against her client.
"Armed with bombshell documents suggesting FBI misconduct, lawyers for Michael Flynn on Tuesday will try to persuade a skeptical judge to vacate the former national security adviser's guilty plea for lying and dismiss the charge.
Defense lawyer Sidney Powell will be joined in her request by Justice Department prosecutors, but she must convince U.S. District Judge Emmet Sullivan that the evidence warrants the dramatic dismissal of a case originally brought by Special Counsel Robert Mueller's team.
Sullivan has solicited his own adversarial advice, ordering a report from a former federal judge in New York that recommended against dismissal on the grounds that DOJ's decision to support dropping the charges was forced by President Trump's badgering.
"In the United States, Presidents do not orchestrate pressure campaigns to get the Justice Department to drop charges against defendants who have pleaded guilty — twice, before two different judges — and whose guilt is obvious," the retired U.S. District Judge John Gleeson wrote recently. "The government's attempt to dress up a politically motivated dismissal that smacks of impropriety as a 'policy judgment,' should be rejected."
But Powell is armed with several new bombshell documents released by DOJ in the last week, including one showing the lead FBI agent in the Flynn case, William Barnett, declared there was never evidence of wrongdoing by the retired general or Trump and the Russia probe was kept open by Mueller simply because his team had a "get Trump" goal.
Barnett's claims came in the form of an interview with DOJ officials in which he revealed FBI agents recommended closing the Flynn case both in November 2016 and again in January 2017 because there was no evidence of wrongdoing or intelligence threats, but their bosses in FBI management overruled them and decided to pursue the interview where Flynn was accused of lying.
One of those supervisors, former Assistant Director William Priestap, kept notes questioning the decision to pursue the Flynn interview. Specifically, his notes questioned whether the FBI's motive was to find the truth in the Russia case or "to get him to lie, so we can prosecute him or get him fired."
Barnett's testimony suggested there was no evidentiary basis for the interview or the pursuit of Flynn. "Barnett believed the prosecution of Flynn by SCO [special counsel's office] was used as a means to 'get TRUMP,'" according to the recently released interview report.
In addition, the FBI has released text messages showing some of the intelligence analysts who worked the Flynn case were so concerned the FBI was engaging in misconduct that they bought liability insurance fearing they could be sued after their bosses continued to keep the investigation open based on "conspiracy theories."
"We all went and purchased professional liability insurance," one analyst texted on Jan. 10, 2017, just 10 days before Trump took office.
The extraordinary evidence showing the FBI believed there was no reason to prosecute Flynn was belatedly produced years after he had pleaded guilty, and it is likely to be seized upon both by Powell and the federal prosecutors supporting her request for dismissal.
"There was no case against General Flynn," Powell and federal prosecutors wrote in the new joint motion filed last week. "There was no crime. The FBI and the prosecutors knew that. This American hero and his entire family have suffered for four years from public abuse, slander, libel, and all means of defamation at the hands of the very government he pledged his life to defend." "
Just The News
---
https://uncoverdc.com/2020/10/11/if-my-family-can-so-can-yours/
UncoverDC
If My Family Can, So Can Yours - UncoverDC
---
https://justthenews.com/accountability/russia-and-ukraine-scandals/next-declassification-could-flip-russia-collusion
Originally published Wednesday, 30 September 2020
Just The News
Next declassification could flip Russia collusion script, point to effort to hurt Trump
Exclusive from Gen. Flynn: If America Falls, Where Will You Go?
"Where will you go to find another country that provides the opportunities and individual guarantees of life, liberty and the pursuit of happiness outlined in our founding documents and guaranteed by a government of, by and for the people?
"Name a country that offers you and your family the same or more than our United States of America? The answer is: Nowhere; there isn't such a place.
"This is our land, these are our people, these are our cities, neighborhoods and streets and this is our country.
"President John F. Kennedy described America as the beacon of hope for others around the world. This is our place and our responsibility and our founding, evolution and growth as a nation are precisely defined by our imperfections, experiences and abilities to redeem and renew ourselves.
"What makes America that beacon of hope is that we are, traditionally, a nation of idea generators, problem solvers, decision-makers, communicators, doers, builders and warriors; we can think for ourselves, speak freely, act and deliver results.
"But being hopeful is not a survival plan: Hope has never won a war nor will it win peace on the home front.
"We cannot hope to shut our eyes against the painful truth that our very existence is, once again, in jeopardy. Failed Marxist ideologies have invaded the mainstream of our consciousness like a network of choking vines seeking to strangle the mighty American oak tree.
"These ideologies manifest themselves through 1) social media censorship of the free exchange of ideas; 2) mainstream messaging that drives toward thought control; 3) political correctness designed to force behavioral compliance; 4) unethical technology use supporting security state command by an over-reaching few; and 5) the selective application, weaponization and enforcement of the very ideals, laws and institutions designed to protect us.
"We are but one generation from third-world poverty, dissolution and enslavement if we choose to stand idly by and allow those seeking to project their failed ideology onto the landscape that is America. The shining city on the hill is the last stronghold of freedom and we are under siege.
"So, I ask you again, if America falls, where will you go?
"Ensuring that situation does not happen requires that we all go on the offensive. The time of fear must now turn from anger into inspiration and action. Now is the time for all good people of America to act to protect what is ours by right and law.
"Our strengths as a nation have been our diversity of thought, judgment, unity of spirit, courage as a people and devotion to what is right and just.
"Our Founding Fathers were imperfect and not politically correct. They spoke their minds, shared their ideas, worked with their fellow countrymen and risked life, liberty and property to ensure that the opportunities that freedom presents would be institutionally guaranteed during their lifetime.
"In short, they sacrificed much. Generations of Americans, unknown to our Founding Fathers, have benefitted from their resolute courage, devotion and profound sacrifice. But knowledge of history is not enough to secure and protect what is now rightfully ours by birth, law and responsibility.
"Don't blindly vote for an unknown future.
"Kindness, generosity, courage under fire and willingness to help our fellow Americans in time of need are hallmarks of the American dream. But the American dream isn't truly a dream for the future; it is manifested as opportunity now.
"And, the American dream is rooted in the power of the American people — exercising the ultimate power of our vote. Thus, we are empowered to positively make a difference in our lives, our children's lives and our neighbors' lives.
"We can minimize any post-election buyer's remorse by researching the candidates we choose to send as our representatives to local, state and federal government.
"If the candidates before us are unknown, we should reach out to them and ask them their intentions as well as what they believe are the priority issues, problems and crises before us. But don't blindly vote for an unknown future. Make your vote count and don't allow others to manipulate your vote for their own purposes.
"Consider sending to those government positions rational and thoughtful representatives who are willing to fight for the betterment of our nation, our states and our neighborhoods.
"As Martin Luther King Jr. suggested, character matters. And once elected, it is we the people who are responsible for holding those officials accountable to ensure their words equal their actions. Among others, these just actions are within your power.
"This is grassroots patriotism and we should not be shaken from what we believe in. Standing up for American ideals and for the American dream are important components of American values. I value my faith, my family, my country and the true friends who willingly stand with me during thick and thin times.
"America is the land of opportunity, and freedom of the human spirit is the way toward achieving that opportunity.
"To secure our republic, every American must then do their part; this is what shapes America. All of us working on the little things across the country — for example, working on school boards, at your state capitol, in your church communities, in local races, on reforming voting laws, observing voting sites, speaking out about ever-changing mask policies or about uncertain vaccines, etc.
"Everyone doing something, no one doing everything, none of us needs to be a Washington, D.C., "superstar." Many people doing their own small part will produce big results.
"Although we need leaders at the national level to fight for us, the work done at the grassroots level maintains a strong foundation that keeps us free. America has a few Joan of Arcs, but the "Little Flowers" living their hidden lives and being faithful in the small things are crucial for our country to thrive.
"People need to decide to get involved. Give up your personal plans and go to the local meeting at your town or city hall. Make efforts to stay informed and tell your friends what you think in order to encourage one another. We have to make sure we discuss politics with our children and instill good, positive American values in them, instead of leaving them to the school system to indoctrinate.
"These are all things that we can't let slide.
"Sometimes we feel like if we can't fix everything, why start now? Fight this feeling and instead chip away at the small things you can do, and together we will turn this ship around.
"Keep in mind the work I describe is neither fast-paced nor exciting. It is slow and tedious. Local council meetings are usually long and drawn out; lobbying at your state capitol is time-consuming; discussing politics with your friends, family or neighbors is uncomfortable and sometimes alienating. Yes, it's hard; life is hard.
"At the local level, we must encourage each other to take care of the little things. That is how we inspire and motivate, that is how we make a difference.
"As an American, I served in the armed forces that guard our country and our way of life. I was and am prepared to give my life in its defense. I have but one lantern that guides my actions, and that is the lantern of experience.
"I have seen evil, and evil's greatest fear is courageous, devoted accountability. The mask of evil will often have a smile and a handout, but let's not be fooled or lulled into sleep by the actions of appearance only but be awoken by the actions of courage and devotion.
"Founding Father Samuel Adams said, "If you love wealth greater than liberty, the tranquility of servitude greater than the animating contest for freedom, go home from us in peace. We seek not your counsel, nor your arms. Crouch down and lick the hand that feeds you; may your chains set lightly upon you, and may posterity forget that you were our countrymen."
"In essence, if you don't like America or what it stands for, leave.
"It is not uncommon for man to be complacent while indulging in the illusions of hope.
"Tyrants want an uninformed public. In fact, it is in their best interests.
"Why do you think our media constantly deceives us through false and anonymous reporting? Hoping that someone will save us, that God will strike down evil before us or that others will stand in our place and do the right thing is foolish thinking.
"Shutting our eyes against the painful truth that tyranny is knocking on America's doors won't save us from the hazards we will certainly face. The future is unknown, but there is no need to move into it blindly.
"America now stands in need of its patriots to prevent its ruin. Never forget: Those things that are most precious can only be saved by sacrifice.
"The very institutions designed by our Founding Fathers to guarantee accountability and our freedoms have become increasingly challenged by brazen hostile and evil forces seeking to highjack and tear down those institutions and the products of lifetimes of evolutionary American societal changes, attacking our culture, our history, the monuments that remind us of our storied past, societal support structures and the very fabric of our nation.
"It is not the first time tyranny challenged freedom nor will it be the last time. Nonetheless, it is our time and our responsibility to act.
"Along the way, "useful idiots" mob-rule the streets of America's Democratic strongholds and suppress lawful accountability. The left is going to remove our rights, and those who currently rampage our streets and support this violent cause will also be cast aside.
"They are only useful until they can no longer be controlled.
"For me, I can imagine the Marxists incentivizing violence and drugs in our streets to use as an excuse to go after gun ownership or ammunition, thereby tightly regulating and taking away our Second Amendment right that guarantees our right to self-defense.
"As we are seeing across our government today, they have spiked our institutions of accountability with left-leaning sympathizers who would selectively go after any opposition to their ham-fisted rule.
"Left-leaning Big Tech firms that thrive because of our Constitution and Bill of Rights invade our privacy, observe us at will and control all information we are able to receive and broadcast, thereby ensuring that we never leave the security state.
"At what point will there be no turning back? Are we heading toward an America that is no better than a third-rate nation or a failed society as many great empires of the past?
"Our rights, our property, our liberty, our happiness and yes, our very lives are at stake in this upcoming election.
"You ask: Is this possible?
"Our republic was made by man; so, too, can it be undone by man.
"God is also at risk in this new society that is rushing to take over America. Remember what they hate.
"When we kneel before God, they know we can stand before anyone.
"However, their plan depends on us following the path they have laid out in front of us. Our path is not known but by the grace of God. It is he who shines the light ahead of us showing us the way to truth and justice.
"I am not a faith-wearing Christian. I do believe that the strength of our convictions and a strong belief in God is vital for a happier and healthier life. While we are all imperfect, we are also capable of learning and growing.
"The time for spiritual growth as a nation is upon us. Ripping faith out of the fabric that is America is what the Marxist left is attempting to do. We cannot allow this to happen. This current assault will absolutely be stopped if each of us does our part.
"Words mean little when action is required, and now, it is time for thoughtful selfless action to protect and maintain the integrity of our nation, a nation that has much to be grateful for.
"Our rich past is filled with strength and imperfections that make us who we are today. It is a storied past filled with heroes and villains, adversity, challenge and the will to overcome. Cherishing this past is the only way we may ensure our children will not repeat the suffering our forefathers endured.
"Americans in the past have prevailed during the direst of situations: wars, civil unrest, tyranny and challenge from external factions. Now, the only way to triumph in the face of evil is to stand up for and hold to account what is rightfully ours by birth, law and the light from God's grace.
"We will prevail. We must prevail. Every community leader, those who have yet to step up, now need to take that step and support our country, our communities, our first responders, our faith-based institutions and our children.
"Let's do it. Let's retake our shining, hopeful city on the hill. Our future, our children's future, our neighbors and our republic depend upon each of our actions and efforts to stand up for and realize our American dream today and every day.
"May God bless America!"
Michael Flynn - Western Journal
(Retired Army Lt. Gen. Michael Flynn served as national security advisor to President Donald Trump.)
---
https://www.westernjournal.com/exclusive-gen-flynn-america-falls-will-go/?jwsource=cl
Originally published Wednesday, 30 September 2020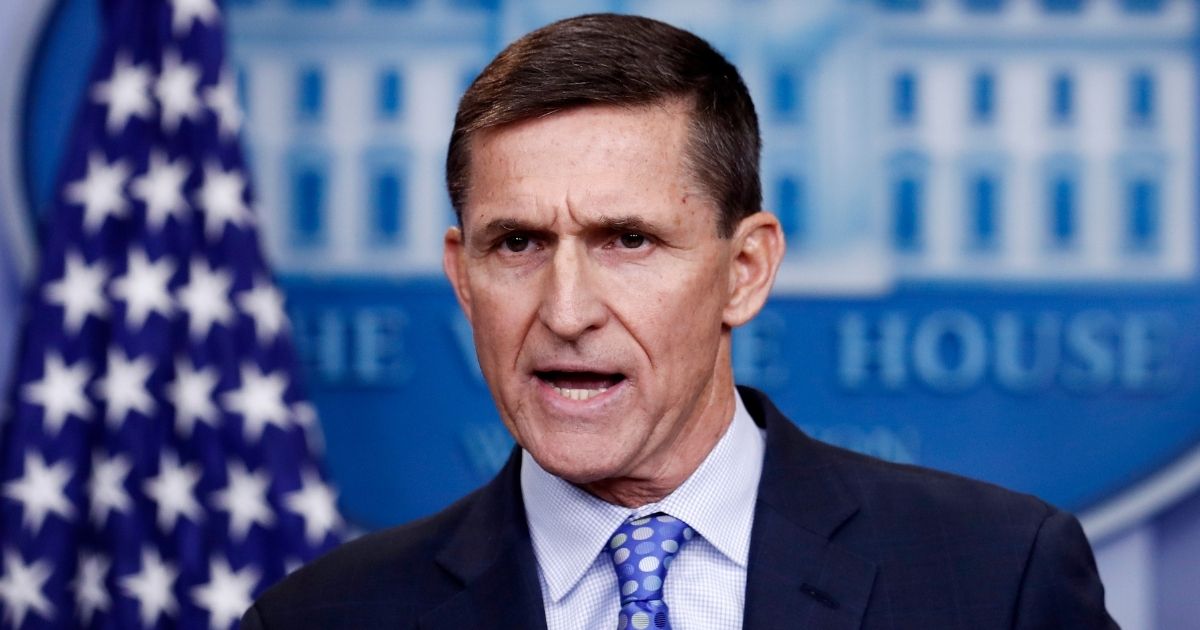 The Western Journal
Gen. Flynn Blasts Leftists: 'the Mask of Evil Will Often Have a Smile and a Handout'
Related:
"This is My Letter to America" Gen Flynn
"We are witnessing a vicious assault by enemies of all that is good, and our president is having to act in ways unprecedented in decades, maybe centuries."
"The biblical nature of good versus evil cannot be discounted as we examine what is happening on the streets of America.
"It's Marxism in the form of antifa and the Black Lives Matter movement versus our very capable and very underappreciated law enforcement professionals, the vast majority of whom are fighting to provide us safe and secure homes, streets and communities.
"When the destiny of the United States is at stake, and it is, the very future of the entire world is threatened.
"As Christians, shouldn't we act? We recognize that divine Providence is the ultimate judge of our destiny. Achieving our destiny as a freedom-loving nation, Providence compels us to do our part in our communities.
"It encourages us in this battle against the forces of evil to face our fears head-on. No enemy on earth is stronger than the united forces of God-fearing, freedom-loving people.
"We can no longer pretend that these dark forces are going to go away by mere prayer alone. Prayers matter, but action is required.
"This action is needed at the local, state and federal levels. Action is also required in the economic, media, clerical and ecclesiastical realms.
"Decide how you can act within your abilities. Stand up and state your beliefs. Be proud of who you are and what you stand for. And face, head-on, those community "leaders" who are willing to allow dark forces to go beyond peaceful protests and destroy and violate your safety and security.
"Churches and houses of worship must return to normal. We invite everyone of goodwill to not shirk their responsibilities and instead act in a fraternal fashion. If for no other reason or with no other ability, act in a spirit of charity.
"We cannot disrespect or disregard natural law along with our own religious liberties and freedoms.
"I am witnessing elderly people lose their connection to all that is good in their lives: connections to their faith, their families and their individual freedoms, especially the simple act of attending church, something they've been doing for decades.
"Let us not be intimidated or fear those who cry out that we are in the minority; we are not.
"Good is always more powerful and will prevail over evil.
"However, evil will succeed for a time when good people are divided from each other and their personal lives — children away from their teachers, preachers from their congregations, customers from their local businesses.
"America will never give in to evil. Americans work together to solve problems.
"Otherwise, America as the true North Star for humanity will cease to exist as we know it."
---
https://rubyraymedia.com/index.php/top-stories-view-all-articles/this-is-my-letter-to-america-gen-flynn
Originally published Wednesday, 30 September 2020
Ruby Ray Media
"This is My Letter to America" Gen Flynn
Promotion:
Free Membership: Posting Your Content Securely in Your MyRR Profile, Pages and Groups is Fast and Easy
MyRR Arsenal: A mighty tide has begun, people are coming to RRM for many reasons, including a censorship-free safe haven for their content--and best of all, it's free!
In addition to enjoying some of the best news and commentary on the internet, membership in our patriot community is growing rapidly. Free Membership gives you immediate access to your MyRR Timeline, Pages and Groups. Simply posting content here exactly like you would on FB and Twitt, secures it from censorship.
---
https://rubyraymedia.com/index.php/top-stories-view-all-articles/host-your-content-where-it-can-t-be-censored
Originally published Wednesday, 30 September 2020
Ruby Ray Media
Free Membership: Posting Your Content Securely in Your MyRR Profile, Pages and Groups is Fast and Easy
---