America Reawakens by Theresa Krenz
May 13 and 14, 2022, I attended the Clay Clark Reawaken America Tour in Myrtle Beach, South Carolina. The event was opened by the blowing of the shofar, a ram's horn trumpet that used to get sounded seven times by the ancient Hebrews in battle and in high religious observances. This was a deeply moving ritual that set a powerful spiritual foundation for the two-day event.
By Theresa Krenz, Contributing Author
I was reignited to the awakening in this meeting of like minds, listening to the authors and leaders I had followed during the past three years. Yes, it is a spirit-filled event. No, it isn't anything that the (incorrect) group called Faithful America claims. They are a platform for Christian leaders to speak negatively against the ongoing Reawaken America tour. Could this 501c3 nonprofit be a government (clown) mouthpiece?
The tour, hosted by Clay Clark, General Michael Flynn, Eric Trump, and other notable MAGA figures has been denounced by "Faithful America" as an attempt to spread Christian Nationalism. It is far from that. There is only the friendliness and concern of liberty loving people who have come from all walks of life to be with those courageous leaders who have questioned the medical so-called experts and the outright lies of the media keeping the world in a frantic state of trauma over made-up emergencies.
I had a chance to be with many speakers and get their views on many issues. One of the headliners was Dr. Stella Immanuel, MD, from Houston TX. Much more than a medical doctor, she also runs "Fire Power Ministry" in Katy, TX (Click here to go to website - you may get blocked and have to unblock it in your virus scanner.) Fire and Power exploded as she took the stage, encouraging participants to be prepared to call out the evil doers, teaching them how to take action against them spiritually and how to overcome the opposition.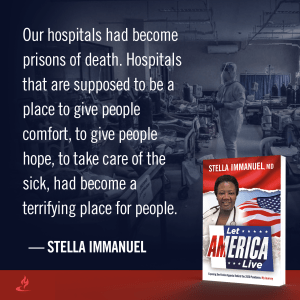 When the COVID-19 pandemic hit, the world was turned upside down unlike we had ever seen before. While most of us turned to the news to figure out what was going on, little did we realize that the media would be the same ones who would try to keep us in lockdown.
In Let America Live by Dr. Stella Immanuel, you will discover the truth about hydroxychloroquine, the agenda of the Left, and how Immanuel herself was discredited by the media because of her scientifically-backed endorsement of using hydroxychloroquine on COVID patients.
Dr Immanuel's book, "Let America Live", is an exposure of the hidden agenda behind the 2020 scamdemic. Speaking with Dr Stella about her personal journey, I was struck by the depth of her compassion and courage she's used to press on despite all odds, which are felt even with the reawakening of America that Clay Clark's events represent, bringing together so many who have felt isolated, thinking the victory over death and hell would never come. The evildoers' opposition to us may sometimes seem insurmountable, but all that doom is shattered by the sheer amount of love and devotion generated by thousands of people gathered with hands upraised, giving thanks, singing and loving in the spirit of freedom as one.
No longer were these people attending this event traumatized by the scamdemic of 2020. Dr. Stella went on to say that when people are in a state of trauma, they lose the ability to think critically. How does this happen? A specific part of the brain called the amygdala that is directly responsible for sensing threats and driving fear ignites anxiety in your brain.
When the scamdemic shutdown first happened in March 2020, many became obsessed with the media, which only stoked fear and did little to comfort or console us. It was one episode after another telling us is that it was good for us to stay inside. This was by designed to whip up fear, inciting the amygdala to drown out our critical thinking.
Carolina's Opry, Myrtle Beach SC, is not a church but has been a venue for 30 years for exposing so much that is wrong in America and the world, the false flags, etc., and had received some opposition from others of faith because of its strong stance.
Dr. Stella encourages a determination to proceed even in the face of all opposition, as chronicled in one of her many books, Let America Live.
Yes, if you do get a chance to join the next two events, one in Virginia Beach and the other in Rochester, New York, don't hesitate to attend. There are many speakers and you will learn of their struggles and how much inner value and fortitude they have received on the journey to truth and wholeness, while defending Liberty upon the earth.
I felt that I stood on the shoulders of giants and was able to view the victory flame, and was very glad to have experienced the light piercing thru the thick clouds I would later perceive from the dire news. Who will ever know what was averted by such a celebration of faith and fellowship, diverting the works of evil from the people in leadership who have no truth to stand up for liberty and proclaim the I Am That I Am is greater than any in the world and that I am a child of Almighty God.
Loading comment...
The comment will be refreshed after

00:00

.
This commment is unpublished.

I agree with you

@terry125

! I was fortunate to attend the initial launch of the ReAwaken Tour in Fresno, OK in April 2021. I was lifted above the unreality of this earth into a realm of infinite possibilities. I encourage all to attend one and experience a spiritual awakening that will help you find the path to fulfill your life purpose. And many thanks to you for writing a great article about your experience my friend. ALWAYS VICTORY!
By accepting you will be accessing a service provided by a third-party external to https://rubyraymedia.com/