Senator Richard Blumenthal, Democrat from Connecticut, known largely as Da Nang Dick for the lies he told about serving in Vietnam in one of the most egregious cases of stolen valor ever recorded by someone elected to Congress, had his turn in a Senate hearing involving Dorsey and Zuckerburg, in which he expressed his desire for Zuck to take Steve Bannon down from Freakbook. And, Zuck said no. LOL. Such a moron!
---
Is Da Nang Dick scared that he's finally going to be held account for being a totally criminal dim?
---
https://www.youtube.com/watch?v=EPjCGaP_RzE
'Unintentional and rare!!??'
"Blumenthal is under fire for saying, on several occasions, that he served in the Vietnam War when he was a Marine reservist who never left U.S. soil. He held a press conference last Tuesday to express regret for the claims. But he did not formally apologize at the time and claimed that public misstatements about his Vietnam service, first published in The New York Times, were unintentional and rare."
---
https://www.foxnews.com/politics/blumenthal-apologizes-for-inaccurate-claims-about-vietnam-service
Originally published Tuesday, 17 November 2020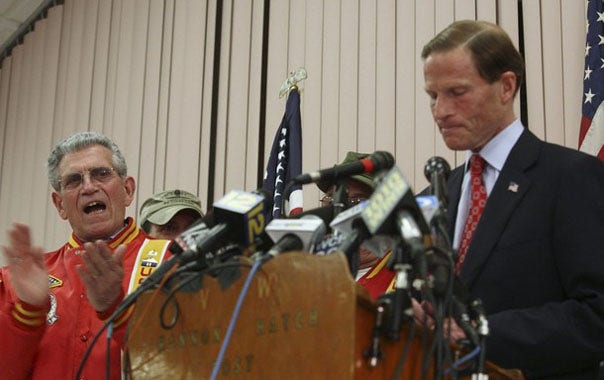 Fox News
Blumenthal Apologizes for Inaccurate Claims About Vietnam Service
---
Promotion
---
RRM Content Creators: Visionaries, Poet Warriors, World Leaders
Ruby Ray Media, the World's Premier Community Media Platform, was created to support Citizen Journalism at its finest.
Citizen Journalists, multimedia content creators are the reason we are here. Raising up your voice is central to our mission. We are a team, lifting each other by the variety of our talents and skills. The most important element in this is capturing and sharing the unique thoughts, wisdom and artforms that come to us as we ponder the world in our hearts. Seeing now clearly how badly the people who arrogate themselves into positions of power and influence over us, are bungling the job. They have never attempted to serve the people who are the source of their wealth and power, they only seek to exploit us.
Our years of experience on social media have clearly proven to us, that the so-called "average" men and women living on this planet, have in our daily musings the extraordinary wisdom of how this planet needs to be run--it's a big planet, each one of us contains valuable insights into the many aspects of the whole. We support each one of us upping our games expressing the unique gifts each of us contains.
---
https://rubyraymedia.com/index.php/creators/rrm-content-creators-visionaries-poet-warriors-world-leaders
Ruby Ray Media
RRM Content Creators: Visionaries, Poet Warriors, World Leaders
Free Membership: Posting Your Content Securely in Your MyRR Profile, Pages and Groups is Fast and Easy
MyRR Arsenal: A mighty tide has begun, people are coming to RRM for many reasons, including a censorship-free safe haven for their content--and best of all, it's free!
In addition to enjoying some of the best news and commentary on the internet, membership in our patriot community is growing rapidly. Free Membership gives you immediate access to your MyRR Timeline, Pages and Groups. Simply posting content here exactly like you would on FB and Twitt, secures it from censorship.
As you establish your presence, you'll start noticing your RRM content is drawing many times more hits than you are seeing on deepstate-controlled social media. We designed RRM to be your most potent tool for reaching out and touching the world.
One of our authors has an RRM article that popped past 80k hits, while we were still testing the site. Seeing your FB or Twitt posts languishing as usual at one or two dozen engagements, watching the same posts on RRM pulling thousands of hits, you'll get quite clearly why we built this.
No doubt Twitt, FB etc are where the war is, your MyRR Profile and Timeline, Pages and Groups are your Arsenal, where you store the ammo securely, out of reach of the rampant censorship war being waged against the people and against decency and truth.
---
https://rubyraymedia.com/index.php/top-stories-view-all-articles/host-your-content-where-it-can-t-be-censored
Ruby Ray Media
Free Membership: Posting Your Content Securely in Your MyRR Profile, Pages and Groups is Fast and Easy
---